From Issues with Labor to Cold-Environment Equipment Concerns, Protein Processing Plants Have Challenges Unique to the Industry
In comparison to many industrial sectors, protein producers traditionally have been slow to adopt automation and robotic technologies, but that trend is changing. From multi-national protein focused food companies like Tyson Foods to regional meat packers such as Wolverine Packaging Co., a third-generation family business in Detroit, meat packers are evaluating production processes and automating key operations to increase throughput and lower costs.

Protein processing plants, from meat and meat substitutes to seafood, dairy and pet foods, suffer from manufacturing challenges not found in other industries. The cold environment presents a broad range of obstacles unique to these facilities requiring automation equipment and components that can withstand a harsher environment than other industrial facilities. Chronic and often critical labor shortages have plagued the industry for years and are further exacerbated by the pandemic. The concentration of COVID-19 outbreaks in the labor-intensive shoulder-to-shoulder work environment of the meatpacking industry has caused widespread plant shutdowns disrupting the US food chain and increasing the need to keep employees safe and socially distanced. These trends are here to stay spurring meat producers, large and small, to develop an automation strategy to meet production throughput goals.
Protein producers choosing to deploy automation and robotic technology solutions to help alleviate today's production challenges are also setting the stage for long-term scalability of operations. Researching how you go about looking for a solution can be daunting. Here we will walk you through what you need to know.
Where to Start Your Automation Journey
Contact an AMT Automation Expert Today
Exploring factory automation options to solve labor shortages and disruption-proof protein production requires a holistic approach to properly create a roadmap for current and future improvements. Automating one area without considering how you can incorporate future automation projects can lead to future scaling limitations. Working with a protein-experienced independent system integrator to conduct an automation audit can help you determine what automation project can have the quickest impact for your production needs while not limiting future automation expansion.
How AMT Partners with Protein Producers
AMT has specialized knowledge of the protein industry gained through many successful projects. Our team of experts will evaluate your current operations meticulously by conducting an extensive review of the current process, interviewing operators, maintenance staff and management to reveal the nuances of your situation. We can then provide you with a roadmap and plan based on finding the optimal solutions for your specific needs. Unique to our industry, we offer an unbiased consultation with no product or hardware agenda. Our productivity roadmap can not only give you multiple alternatives to achieve your desired outcome, but can also factor in future growth plans, workforce staffing and training needs, and facility requirements.
For our protein clients, often adding end-of-line automation is the ideal place to get started including: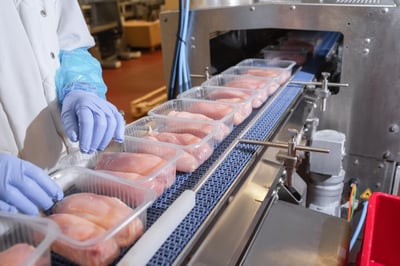 Secondary packaging
Box erection and line side delivery
Automated sorting and conveyance
Machine vision quality inspection
Barcode readers for lot tracing and shipping destination
Robotic cells for palletizing, depalletizing
Pallet dispensing
Stretch wrapping
Point-to-point delivery via conveyors or AGVs
End-of-line processes can give the quickest ROI for protein plants. The automation replaces strenuous and highly repetitive tasks to increase employee safety and eliminate ergonomically-hazardous tasks and reduce floor traffic. Robotic palletizing and depalletizing can be an efficient way to increase throughput while redeploying operators to tasks less subject to repetitive-motion injury.
AMT engineers have experience with material handling in a wide variety of situations; we recently shared our expertise in an article - 10 Key Considerations for Palletizing / Depalletizing.
AMT helps protein clients navigate the numerous environmental challenges found in the cold environments of protein processing plants. Many options are evaluated and the best candidates are presented to the client for review. AMT uses specialized simulation software to model and visualize the process improvements and uncover potential issues before equipment plans are finalized. Once the client accepts the design, the build process begins.
Download: 10 Key Considerations for Palletizing / Depalletizing
Video Playlist: Solutions for the Protein Industry
Video Playlist: Advanced Material Handling
Article: Nine Key Design Considerations When Automating Upstream and Downstream Processes in Temperature-Controlled Food Production Plants
How Will Your Workforce be Impacted
Adding automation will help reduce the workforce needed to keep your operation running and you can shift and retrain good employees to do more value-added work where their talents are best utilized. Automate to improve the quality of jobs, replacing the dull, dirty, and dangerous tasks first.
Article: Palletizing and Depalletizing
Video: End-of-Line Palletizing Solution – Protein Market
Unique Challenges for Automating Protein Production
Protein production facilities have many unique challenges when it comes to automating their processes. A large percentage of protein producers in the U.S. are located in older facilities built in a different era. These brownfield plants have many obstacles to automation that must be managed, such as smaller spaces for energy efficiency, smaller openings into and between spaces, logistical issues working around existing equipment, and potential structural and utility considerations due to changing building methods and codes.
Another challenge to adding automation may be a lack of internal knowledge with the staff. If automation is not currently present in the facility, there may be a greater hesitation for its consideration, like the old adage, "you don't know what you don't know." Management may be reluctant to consider automation due to concerns over its installation, operation, and maintenance. Creating a trusted partnership with a reputable system integrator can provide the confidence to begin the journey. A system integrator partner can design and install automation, train operators and other staff on its operation and maintenance, and provide ongoing support for any issues that arise.
Video: Conveyance and Robotic Palletizing at Wolverine Packing Co.
Article: Overcoming Installation Obstacles on a Tight Schedule
Case Study: Wolverine Packing Co. Forest Park
Protein processing plant solutions can be complicated, but when thoughtfully designed and installed can provide a quick ROI and a reduction in risk. Please contact AMT for more information or to discuss your project.
Contact an experienced AMT expert today!