production and pack out automation - Wolverine Forest Park
Wolverine Packing Co. needed a high-speed automated case packing and palletizing solution for the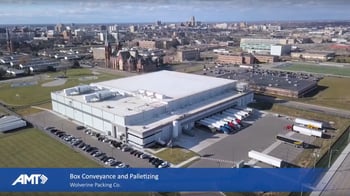 company's new greenfield meat processing facility in Forest Park, MI. The equipment needed to be installed in several distinct phases to accommodate the facility's startup timeline and evolving needs.
System Details:
Box taping
Conveyors
Control panels
Weigh check
X-ray systems

Barcode reader to sort product

Three FANUC R2000 robots each tending three palletizing areas

Proprietary flexible EOAT picks up boxes of varying size and weight

One pallet dispenser

Pallet conveyors

Slip sheet feeder

Pallet wrapper

Manual pallet loading area
The two-part solution evolved to meet the customer's production requirements and retained a modular design for flexibility and future expansion.
Download the Case Study